This article, Astraea, is an article only to be used by ScarletPlumage.
Astraea is an archipelago located in the New World; serving as one of the flagship nations of the Underworld Empire known as Enma. Thanks to the influence of it's Empress, Astraea is politically considered to be an independent state to the World Government, and on a neutral stance.
Culture
Religion
Administration
Literacy
Armed Forces
Technology
Layout and Locations
Weather
Wild Life
Mountain Beasts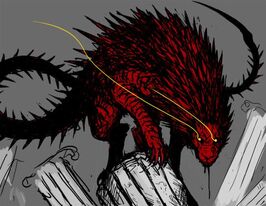 Geography
Resources
Regions
There is also a Main Church and then several smaller churches in every region.
Nyx
Devil's Gambit:
Haniel's Square:
Eos
The Ru

ins
Ayanganna'
The Wrestling Federation HQ
The Printing Press
Phoebe
University of Dawn
Artist's Cove:
Sugarfruit Factory:
Inhabitants
Royalty
University of Dawn
References
Community content is available under
CC-BY-SA
unless otherwise noted.