Ryū D. Weatherman is a member of the science division in the Marines. His work includes discovering the secrets of how Devil Fruit powers work, and various other scientific achievements.
He is also being able to create what Marines called a "budget" buster call with his devil fruit, the Soru Soru no Mi. Via his Devil Fruit, Weatherman is able to control clouds and send lighting strikes down onto pirates and islands. He also uses this to change the weather around. Only marines whos rank is rear admiral or higher are able to contact Weatherman.
Appearance
Personality
Relationships
Abilities and Powers
Devil Fruit
Special Homies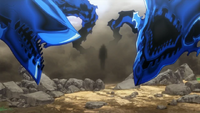 Haki
Haoshoku Haki
Busoshoku Haki
Equipment
History
Bounty
Trivia
The appearance is based on Nine from My Hero Academia
References
Community content is available under
CC-BY-SA
unless otherwise noted.