Background
The Ten Sacred Generals of The New World are a group of guards for the
5 Gods
. They exist in the future, and already somewhat exist now.
How To Become A Member
So far, their is only one member, Kori Atama. To become a member, you have to be a Pirate, have a bounty of over 150,000,000, have a Devil Fruit or Haki, and most importantly, that you have to be younger than 60 years old. Sorry, Nolio Bartolomeo. Their are nine open slots, so to ask for a request, send a message on Tylerelman's Talk Page. Then he will decide and if he says yes, you will have your character in the Ten Sacred Generals.
Members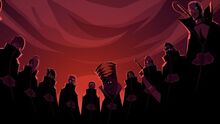 Community content is available under
CC-BY-SA
unless otherwise noted.